Backstage Hollywood: The producer of such movies as the 'Saw' sequel and 'Texas Chainsaw' remake says he jumped at the chance to bring the family friendly 'Grace Unplugged' to 511 screens.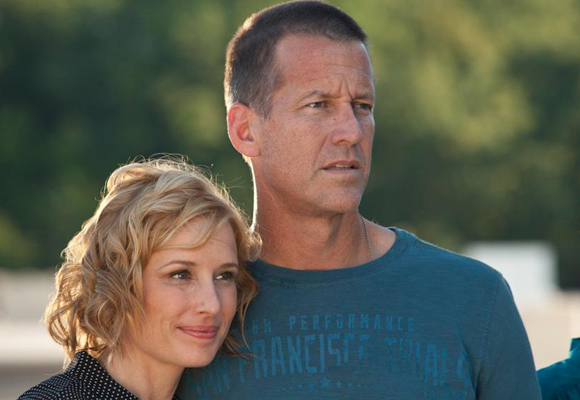 By John Horn (for latimes.com)
The last three movies produced by Mark Burg — a sequel to "Saw," the remake "Texas Chainsaw 3D"and a violent revenge tale called "The Tortured" — were all rated R for "grisly" and "sadistic" violence and were hardly pleasant experiences for characters trying to remain alive.
But Hollywood has a habit of making strange bedfellows, and when Burg's latest project arrives in theaters on Friday, fans of the horror veteran's work may be surprised by its story: "Grace Unplugged" is a Christian drama about a church singer (AJ Michalka) whose estrangement from her evangelical father mirrors the prodigal son parable in the Gospel of Luke.
See pluggedin.com movie review of "Grace Unplugged"
Opening on 511 screens, "Grace Unplugged" is hoping to satisfy a largely overlooked segment of the moviegoing audience — people who support family-friendly entertainment that carries a devotional message. Such films tend to trickle out every year or so, and once in a while the return on investment is staggering.
In 2011, the $2-million "Courageous" grossed $34.5 million in domestic theaters, the $500,000 "Fireproof" sold $33.5 million in tickets in 2008, and two years ago the $18-million"Soul Surfer" grossed more than $43.8 million. Unlike even low-budget horror movies that need an advertising campaign of about $30 million to launch them, Christian-tilting films are usually much cheaper to market because churches across the nation can help spread the word for free.
Made for just $1.7 million, "Grace Unplugged" opens in Birmingham, Ala., where 18-year-old Grace Trey (Michalka) and her father, Johnny (James Denton), are playing devotional songs for a small congregation. It's clear the two are clashing over their performances, and Grace feels her inflexible and authoritative father — "I'm the one in charge of the band," he admonishes her — is crimping not only her music but also her professional ambitions.
After a fight with her father, Grace decides to leave for Hollywood, where she connects with a record producer named Frank Mostin (Kevin Pollack), who once made albums with her father, when Johnny was a hard-living rock and roller. Frank encourages Grace to dump her Christian music in favor of pop tunes, and hires a stylist to tart her up a bit. Southern California has its temptations — alcohol, single men, nightclubs — but it's not some wicked Gomorrah, as the genre typically might have it.
Before long, Grace is succeeding. But her climb up the charts carries a personal price. Is she living for God, or for herself? Can she own her faith, and thereby be reconciled with her family?
Michalka, who said she has been doing nearly as many interviews with secular news outlets as religious ones, believes that the movie — rated PG for thematic elements and brief teen drinking — can appeal to mainstream moviegoers in addition to the core Christian audience.
"The movie really does plant its feet in both worlds," Michalka said. "For me, it's really, truly and purely a family film."
"Grace Unplugged" was directed and co-written by Brad Silverman and produced by Russ Rice, conservative Christians who met at Grace Community Church in Canyon Country several years ago and have worked on industrial and educational films. They previously collaborated on "No Greater Love," which was released by Lionsgate's home video division in 2010 without being shown in theaters.
Not long after "No Greater Love" was released, the pair pitched their "Grace Unplugged" treatment to Lionsgate's Anne Parducci, the studio's executive vice president of marketing for home entertainment. "I thought it was a very fresh concept and I loved the Christian music component," Parducci said. "I was convinced it was a marketable movie."
Burg, whose "Saw" films were released by Lionsgate, separately had connected with financiers Chris Zarpas ("The Sandlot") and Robert Norton, who were interested in trying to raise money for a slate of Christian films. Zarpas and Norton were introduced to Silverman and Rice, and they worked to develop the script, but the project eventually lost momentum.
The "Grace Unplugged" script made its way to Burg, where it sat on his bedside table for weeks. Intrigued, Burg's wife, Shainaz Donnelly, picked it up, read it and insisted her husband do the same. "It was not what I do. I come home at night and read horror scripts," Burg said.
But he read it anyway. "I loved it," said Burg, who is Jewish. He called Lionsgate and worked out a deal where he would split the film's production costs with the studio. Silverman and Rice had a green light, with Silverman directing. They said they didn't believe they were making a deal with a horror movie devil because Burg said he trusted them. "Mark just respected the fact that we knew our audience," Silverman said.
The director, who has worked as an actor and stand-up comedian, said that he never intended to make a movie that attacked the entertainment industry.
"We didn't want to demonize Hollywood and the music business," Silverman said. "From a storytelling point of view, that would have been a very shallow approach: Christian music good, popular music bad."
See movie trailer
Texas Chainsaw producer makes a Christian movie – Grace Unplugged