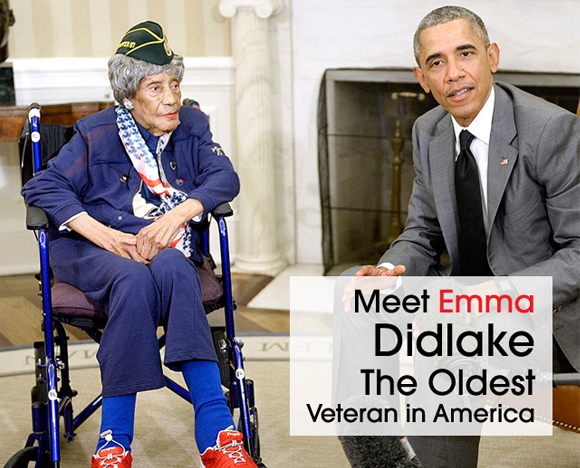 The nation's oldest veteran is female. 110 year old Emma Didlake who served during WWII was honored by President Obama last Friday.
Didlake joined the Women's Army Auxiliary Corps at 38 in 1943, and served in the U.S. as a driver; she went on to work with the NAACP, including marching with Dr. Martin Luther King Jr. in 1963.
Making the decision to join the army was a bold move for the veteran from the segregated south, during a period where many women remained at home. During her service, she held the rank of Private and served for seven months stateside as a driver.
"It's a great reminder of not only the sacrifices that the Greatest Generation made on our behalf," Obama said on Friday, "but also the kind of trailblazing that our women veterans made, African-American veterans who helped to integrate our Armed Services."
Didlake traveled around the world and was proud to earn medals for her military contribution. She earned the Women's Army Corps Service Medal, American Campaign Medal, and World War II Victory Medal.
More at nbcnews.com
The President Honors America's Oldest Veteran