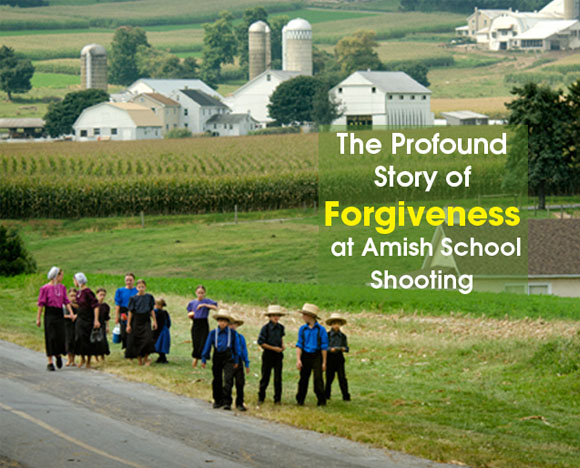 A wise man once said, "It's not an easy journey to get to a place where you forgive people. But its such a powerful place, because it frees you" – Tyler Perry. We were reminded of such a moving forgiveness story recently. The horrible school shooting that took place in a small town of an Amish community in Pennsylvania.
You may know the story. On October 2, 2006 one Charles Roberts burst into a one-room Amish schoolhouse in Nickel Mines, Pennsylvania . He was totally armed with a handgun, a 12-gauge shotgun, a rifle, cans of black powder, a stun gun, two knives, a toolbox and restraint devices. He was prepared to go the distance but the police arrived quickly.
After ordering a teacher and the boys to leave, he bound 10 young schoolgirls and lined them up against the blackboard. He proceeded to shoot all of them before shooting and killing himself. Five girls died; the others were severely wounded. The victims were between the ages of 6 and 13.
Roberts, then 32, lived with with his wife Marie and his three children. He had no criminal record or history of mental illness according to the police. He was an angry man who had a grudge with God for an incident that took place 20 years prior. He was well known in his close knit Amish community because he used to deliver milk in the neighborhood.
What followed in the coming days inspired the whole world. Instead of death threats or animosity towards the killer's family, the Amish community chose forgiveness as way of healing.  Not only did they forgive him, several victim families who had just buried their own daughters a day before, attended the shooter's burial. They were seen comforting his widow. Later the community donated money to support the killer's widow and her three children.
We continue to be inspired by this profound demonstration of forgiveness. While the Bible teaches us to forgive, certain tragedies are simply near impossible to let go of that quick. Apparently this is part of the Amish simple ways of handling crisis.  We would certainly like to take a page from their book.
The Profound Story of Forgiveness at the School Shooting