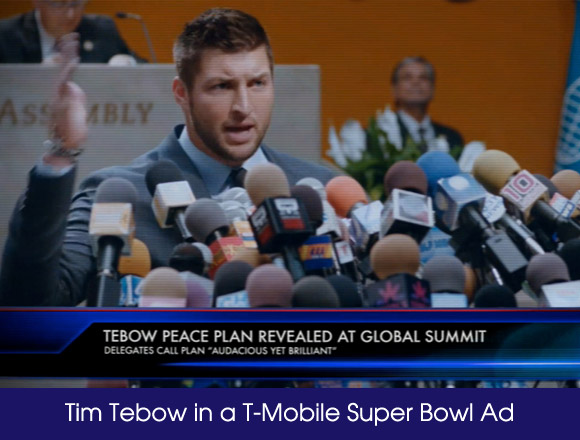 By Dale Buss – Forbes.com
Tim Tebow won big in Super Bowl's personal – brand derby. Kudos to Bob Dylan for showing his capitalist colors. Ellen Degeneres proved she can dance (sort of). And Bruce Willis — who thought he was culturally relevant enough any more to star in a Super Bowl ad?
But the biggest personal-brand winner on Super Bowl Sunday clearly was Tim Tebow. And it wasn't just because his successor as the Denver Broncos quarterback couldn't get the job done in the Big Game.
Tebow earned raves for the two ads in which he starred for T-Mobile because he gave detractors pause, gave doubters reason to smile and gave fans yet another reason to applaud how he rolls with the punches.
Shoved out of professional football and without real prospects for returning, what does Tebow do? He goes all jujitsu on the realities and uses his apparently negative circumstances to create a new role for himself as a light-comic pitchman — and to bring plenty of positive buzz to his brand sponsor.
Tebow was pictured in a variety of fantastical roles—as an obstetrician – deliver babies, a bull rider and a rock star—that he could fulfill without a contract.
Get it? Tebow can't seem to get a contract as a professional quarterback anymore so he's got to find something he can do without such a pact; and T-Mobile users don't need a contract.
T-Mobile found an effective way to brush aside Tebow's polarizing effect and make a brilliant statement about how its brand helps build a better world. And in the process, Tebow showed how he could do that too.
Read more at: forbes.com
Tim Tebow Won Big In Super Bowl