As the air gets crisper and leaves start to turn, these crowd-pleasing recipes will warm tummies and comfort hearts. Let them eat soup!
Butternut squash and apple soup
Total Time: 1 hr
Ingredients:
2 tablespoons unsalted butter
2 tablespoons good olive oil
4 cups chopped yellow onions (3 large)
2 tablespoons mild curry powder
5 pounds butternut squash (2 large)
1 ½ pounds sweet apples, such as McIntosh (4 apples)
2 teaspoons kosher salt
½ teaspoon freshly ground black pepper
2 cups water
2 cups good apple cider or juice
Directions:
Warm the butter, olive oil, onions, and curry powder in a large stockpot uncovered over low heat for 15 to 20 minutes, until the onions are tender. Stir occasionally, scraping the bottom of the pot.
Peel the squash, cut in half, and remove the seeds. Cut the squash into chunks. Peel, quarter, and core the apples. Cut into chunks.
Add the squash, apples, salt, pepper, and 2 cups of water to the pot. Bring to a boil, cover, and cook over low heat for 30 to 40 minutes, until the squash and apples are very soft. Process the soup through a food mill fitted with a large blade, or puree it coarsely in the bowl of a food processor fitted with a steel blade.
Pour the soup back into the pot. Add the apple cider or juice and enough water to make the soup the consistency you like; it should be slightly sweet and quite thick. Check the salt and pepper and serve hot.
From foodnetwork.com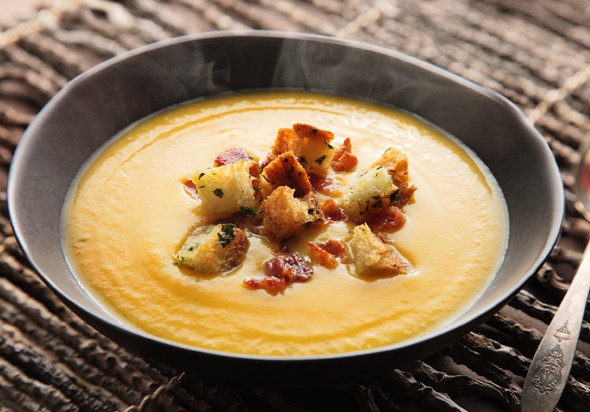 Total Time: 2 hrs 15 min
Ingredients:
1 (4-pound) sugar baby pumpkin, cut in half and seeds removed
1 tablespoon olive oil
Kosher salt
Freshly ground black pepper
½ cup small-dice bacon (about 3 slices)
½ cup small-dice shallots (about 2 medium)
¼ cup dry (fino) sherry
2 cups stock or low-sodium chicken broth
2 cups water
1 ½ teaspoons finely chopped fresh thyme leaves
¼ cup heavy cream
Parsley Croutons, for garnish (optional)
Directions:
Heat the oven to 375°F and arrange a rack in the middle. Rub the cut halves of the pumpkin with the oil and season generously with salt and pepper. Place on a baking sheet cut-side up and roast until fragrant, tender when pierced with a fork, and golden brown, about 70 minutes. Remove from the oven and let sit on the baking sheet until cool enough to handle, about 20 minutes.
Using a large spoon, scoop out the flesh, place it in a medium bowl (you should have about 3 cups), and set it aside.
Place the bacon in a large, heavy-bottomed saucepan or Dutch oven over medium heat and cook until crispy and the fat is rendered, about 10 minutes. Remove with a slotted spoon to a small paper-towel-lined plate and set aside.
Add the shallots to the bacon fat, season with salt and pepper, and sauté until softened, about 4 minutes. Add the sherry and cook until reduced by half, about 2 minutes. Add the stock or broth, water, thyme, and reserved pumpkin and season with salt and pepper. Stir to combine, then bring to a simmer. Reduce the heat to low and simmer until the flavors have melded, about 10 minutes.
Using a blender, purée the soup in batches until smooth, removing the small cap from the blender lid (the pour lid) and covering the space with a kitchen towel (this allows steam from the hot soup to escape and prevents the blender lid from popping off). Place the blended soup in a clean saucepan. Stir in the cream and season with salt and pepper as needed. Serve garnished with the reserved bacon and the croutons, if using.
From chow.com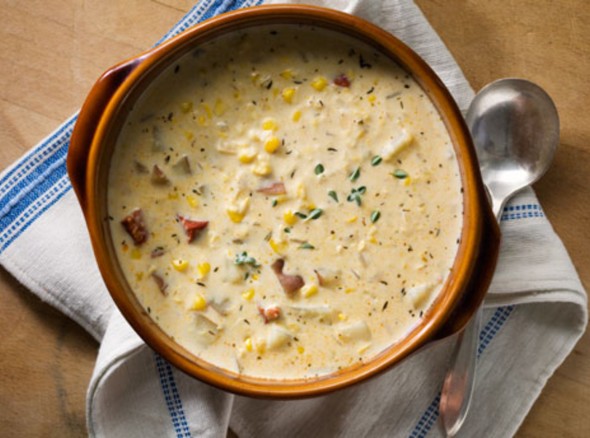 Total Time: 30 min
Ingredients:
6 cups fresh corn kernels (cut from 6 to 8 large ears) or frozen kernels, thawed, patted dry (about 2 pounds frozen), divided
4 cups low-salt chicken broth, divided
2 tablespoons olive oil
6 ounces smoked Spanish chorizo,* cut into ¼ -inch cubes (about 1 ¼ cups)
1 ½ cups chopped onion
1 pound (about 3 medium) unpeeled red-skinned potatoes, cut into ¼ -inch cubes (about 3 ½ cups)
2 ½ teaspoons dried thyme
1/8 teaspoon (scant) cayenne pepper
2 cups half and half
Fresh thyme sprigs (for garnish)
Directions:
Blend 3 cups corn kernels and 1 ½ cups broth in processor to coarse puree. Transfer to large bowl. Heat oil in heavy large skillet over medium heat. Add chorizo and sauté until beginning to brown, about 3 minutes. Using slotted spoon, transfer chorizo to small bowl.
Add onion and remaining 3 cups corn kernels to same skillet; sprinkle with salt and pepper. Sauté over medium-high heat until onion begins to soften, 5 to 6 minutes. Add potatoes and stir until potatoes begin to soften, about 2 minutes (corn may begin to brown slightly).
Transfer corn mixture to large pot. Add dried thyme, cayenne, reserved pureed corn mixture, and remaining 2 ½ cups broth to pot. Bring just to boil. Reduce heat to medium and simmer uncovered until potatoes are tender, 10 to 12 minutes.
Add half and half and chorizo. Simmer uncovered until heated through, about 2 minutes. Season chowder to taste with salt and pepper. Simmer 5 minutes longer to thicken, if desired. Divide soup among 16 bowls or mugs. Garnish with thyme sprigs and serve.
From bonappetit.com
Total Time: 5-10 hours
Ingredients:
1 pound dried green split peas, rinsed
2 medium carrots, peeled and medium dice
2 medium celery stalks, medium dice
½ medium yellow onion, medium dice
2 medium garlic cloves, minced
2 fresh Italian parsley sprigs
1 bay leaf
1 meaty smoked ham bone or 2 ham hocks (about 1 pound)
4 cups low-sodium chicken broth (1 quart)
2 cups water
Kosher salt
Freshly ground black pepper
Directions:
Arrange the split peas in the slow cooker in an even layer. Arrange the carrots, celery, onion, garlic, parsley, and bay leaf over the peas in one even layer. Place the ham bone or hocks on top of the vegetables. (At this point you can remove the insert from the slow cooker, cover, and refrigerate up to 12 hours until ready to continue.)
Pour the chicken broth and water into the slow cooker and season with salt and pepper. Cover and cook until the peas are very soft and the meat is falling off the bone, on high for 5 to 6 hours or low for 8 to 10 hours.
Remove the ham bone or hocks to a cutting board. When cool enough to handle, remove the meat from the bones, place the meat back in the soup (discard the skin and bones), and stir to combine. Taste and season with more salt and pepper as needed.
From chow.com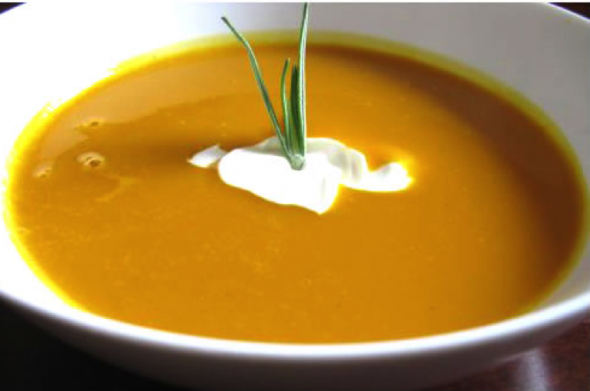 Total Time: 1 hr 35 min
Ingredients:
2 tablespoons sweet cream butter
2 onions, peeled and chopped
6 cups chicken broth
2 pounds carrots, peeled and sliced
2 tablespoons grated fresh ginger
1 cup whipping cream
Salt and white pepper
Sour cream
Parsley sprigs, for garnish
Directions:
In a 6-quart pan, over medium high heat, add butter and onions and cook, stirring often, until onions are limp. Add broth, carrots, and ginger. Cover and bring to a boil. Reduce heat and simmer until carrots are tender when pierced.
Remove from heat and transfer to a blender. Don't fill the blender more than half way, do it in batches if you have to. Cover the blender and then hold a kitchen towel over the top of the blender*. Be careful when blending hot liquids as the mixture can spurt out of the blender. Pulse the blender to start it and then puree until smooth. Return to the pan and add cream, stir over high heat until hot. For a smoother flavor bring soup to a boil, add salt and pepper, to taste.
Ladle into bowls and garnish with dollop sour cream and parsley sprigs.
*When blending hot liquids: Remove liquid from the heat and allow to cool for at least 5 minutes. Transfer liquid to a blender or food processor and fill it no more than halfway. If using a blender, release one corner of the lid. This prevents the vacuum effect that creates heat explosions. Place a towel over the top of the machine, pulse a few times then process on high speed until smooth.
From foodnetwork.com
Cover image credit: simplyscratch.com
Hearty Soup Recipes to Keep You Warm – By Yen Shing