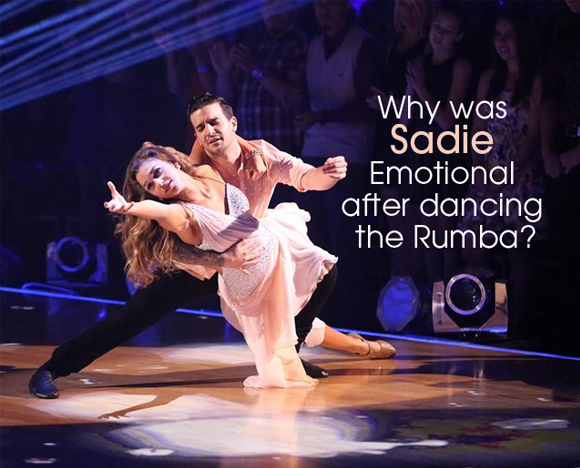 After last week on Dancing with the Stars, Sadie Robertson recounted the emotionally stressful performance of the Rumba, performed with professional partner Mark Ballas. Traditionally, the Rumba requires various sexy movements, which test Robertson's Christian convictions. From rehearsals leading up to the performance in front of the judges, it was a trying time for both Sadie and her partner. However, to their surprise, the judges loved their toned-down, innocent version of the dance. Their performance earned 35 out of 40 points, which was one of the top scores of the night.
The young star told  TV Guide "I guess you all could tell that last week was pretty hard for me. It was really stressful, and I wasn't getting the dance down, and Mark had been telling me all week, 'You're not going to get good scores because you're not doing a sexy rumba and that's what they want to see.' … And I was like, that's okay because I would rather get a bad score from the judges than know in my heart that I did something that I'm not comfortable with. So, when we went out there and we did it, after the dance, I was so nervous because I just knew I was going to get ripped to shreds by the judges.
"That's what I had been trained to think was going to happen. So when they were so respectful of the dance and they loved it and appreciated me standing up for what I believed in, I just kind of felt like God blessed me with the judges liking the dance.
"It just paid off to do the right thing, and it just made me really emotional to finally get the hardest dance so far, in my opinion, out of the way and just be done with it. It felt really good."
Meanwhile, the couple's performance on Monday's Halloween themed night received mixed reviews. Their paso doble routine only received 30 out of 40 points. In an assessment said by judge Carrie Ann Inaba, "I found the movement style to be very 'up,' and most of the paso has to do with the character you're portraying," continuing with, "I wanted to see much more power and strength."
You can follow Sadie on Twitter and Instagram as she shares her behind-the-scenes perspective of DWTS.
Why was Sadie Emotional after dancing the Rumba?