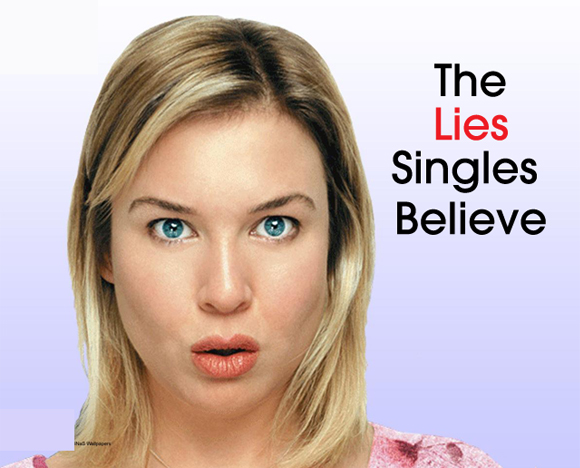 By Lynette Lewis
Lies cloaked in popular beliefs are hard to recognize as lies.  Media messages say love, sex, and romance are the ultimate high, while applauding a lifestyle of casual sex and living together that often destroys intimacy and fulfillment.
Recognizing the lies is a first step in walking in truth — truth that sets us free to experience true love, in healthy ways, along the pathway to lasting fulfillment.
Here are a few common lies often hard to recognize, along with truths that can take us to a place of understanding that brings peace, hope, and joy amidst the wait.
1. Lie — Everyone is Married (doesn't it so often feel like it?!)
Truth — There are millions of singles; in fact, there are nearly 100 million unmarried people over the age of 18 in the United States alone."
2.  Lie — Being Married is More Fulfilling than Singleness
Truth — Many married people long for their single days, and the fact so many marriages end in divorce only validates this. It's better to be single wanting marriage, than married wanting singleness, and in either state it's best to make the best and most of the state you're in!  Marriage multiplies the state it finds you in, so if you're not happy single, chances are you won't be all that happy after your wedding day either.  The goal is to get whole, get happy, and learn to stay happy now (actually I strive for joy not happiness, happiness being somewhat up and down, but joy being more of a state of being, regardless of how happy I may or may not feel at any given time.)
3. Lie — God is not faithful
Truth — In my book, "Remember the Roses," I put it like this…"Will we draw our own conclusions about God in a vacuum, using our own experience as a barometer of His faithfulness and character?  Or alternatively, will we humble ourselves, submit to the testing and trials, admit weakness, and seek knowledge from others more mature?…When despondency and discouragement sought to overtake my heart and soul, I would face a crucial choice, not just once, but many times.  Would I embrace the process and go to a deeper level of maturity and compassion, or abandon it altogether and become increasingly bitter?"
4. Lie — You can never have lasting joy or hope in singleness
Truth — Hope and joy are a choice, not feelings. We CHOOSE joy and hope, and as we do, feelings usually follow.  Emotions may go up and down and ebb and flow, but there IS a way to be joyful and hopeful most of the time, and that's by fixing our eyes on a bigger vision, one in which our state of singleness is only one small definer of who we are and what we're called to be and do in this life.  You are much more than your relationship status.
Life is worth living now to the fullest!
___________________________________________________________________
Lynette Lewis is an author, business consultant and an inspiring speaker. Her popular book, Climbing the Ladder in Stilettos, has been published in several languages receiving recognition from numerous sources including The Wall Street Journal, The New York Post, and The Dallas Morning News.  She is also an author of a relationships book called Remember the Roses. lynettelewis.com
Cover Image by Universal Pictures – Renee Zellweger in Bridget Jones Movie
4 Lies Single People Believe