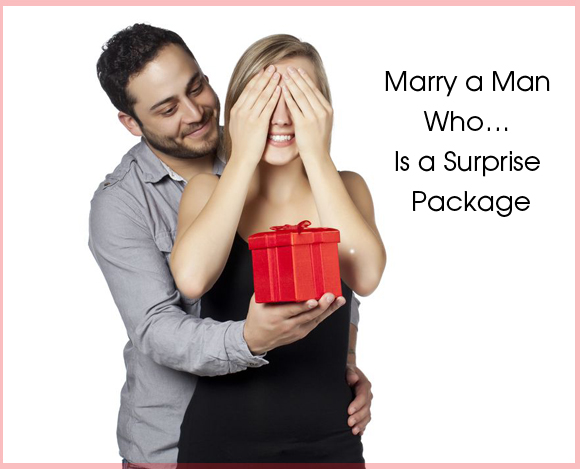 By Lynette Lewis
Yes, the man you marry WILL be a surprise package in some way, and lest that scare you, I'm here to tell you from personal experience, it's a good thing!
Many of us grow up with an ever-growing list of must-haves, and will-have-nots, when in reality, how can we possibly get it 100% right on a living human being we haven't even met yet?
I played with Ken and Barbie for many years in my younger days, and Ken was not divorced nor did he have four sons when he and Barbie married. Still, would I trade my surprise package of five men for the price of one for anything?  NEVER!!
My point here is that while we must hold to our standards and not settle for less, especially when it comes to character and integrity, we must also remain open to "packaging" in its different forms.
I've watched many friends, both male and female, confront this challenge head-on the nearer they got to the wedding aisle.  Maybe she was older than he was, or he came with a different career than she envisioned.  For others it was the wait of getting to the marriage such as him finishing med school, or her going on the mission field because she absolutely had to experience Africa on her own.
The scenarios are as vast and varied as every one of us, and the takeaway here is being open to new ideas while you wait for Mr. Right.  I have an analogy on this that has helped me, maybe you'll like it too.
I imagine going shopping with my Mom for a specific dress I have in mind for a big event.  We spend the entire day looking high and low for the short blue dress with lace.  Here and there, store after store, by the end of the afternoon we're exhausted in the final dressing room.
Then she brings it in…a long dress, lavender, no lace but an interesting neck-line. Stunning. "Just try it on," Mom says, so reluctantly I do.  Immediately, everyone oohs and aahs, myself included.  "Wow, this is beautiful, I love it, I really do!"
It's a dress, it fits well and is in my budget, but hmm, it's just so different than what I envisioned.
Well yes it is, but maybe it's better than short blue lace. Maybe the award-winning Designer knows what lies ahead; what I'll need and want as the years go by and I grow.
So I take the plunge and say YES to different than what I thought, better than what I imagined.
And that my friends, is what I titled the last chapter of my first book, "Different than what I thought, better than what I imagined," because life has gone this way so often. My husband, children, jobs, and journeys arrive first-class, but packaged in surprising ways.
I remain a visionary, but am more open now, realizing that my ideas aren't always best, and while some things are non-negotiable, packaging typically is.
So….Eyes and ears open. Standards high. Heart ready. And like a surprise party planned just for you, you walk in surprised, but not disappointed!!!
___________________________________________________________________
Lynette Lewis is an author, business consultant and an inspiring speaker. Her popular book, Climbing the Ladder in Stilettos, has been published in several languages receiving recognition from numerous sources including The Wall Street Journal, The New York Post, and The Dallas Morning News.  She is also an author of a relationships book called Remember the Roses. www.lynettelewis.com
Marry a Man Who Is a Surprise Package