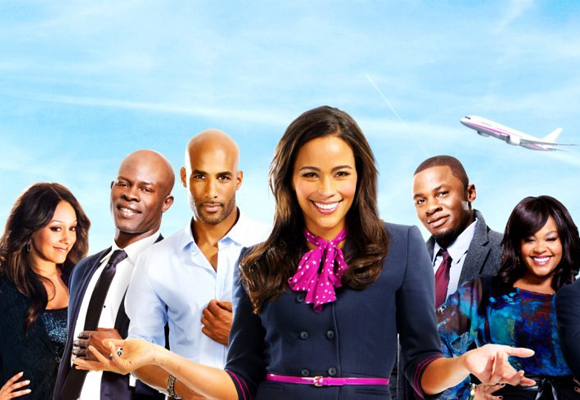 By Pluggedin.com
Montana Moore wants to get married in the worst way. And I do mean the worst.
See, marriage is very important in her family—so important that her mother's gone through with it five times. Now Montana's (much) younger sister is getting hitched too, and naturally she wants Montana to be her maid of honor. Montana's been so honored nine times, after all, and there's no substitute for experience.
But flight attendant Montana (Mo for short) just can't fly solo to yet another wedding. She's tired of hearing her mother nag. She doesn't want to be jealous of her sister. And that means she needs a husband—or, at the very least, a fiancé—in tow by the wedding's rehearsal dinner next month, even if she has to place a "husband wanted" ad on Craigslist.
Hopefully it won't come to that. She and a couple of her fellow flight attendants have what they think is a better plan: Go through the list of all of Mo's ex-beaus and arrange for her to have "chance" meetings with them, to see if they've grown into marriageable material. No matter that they're scattered across the country now. Mo's a flight attendant, after all, and has access to certain airline information that just might be helpful. Besides, it's the holiday season.Everybody's traveling somewhere. Mo and Co. just need to make sure that wherever somewhere is for these exes, Mo's on the same somewhere journey too—so maybe they can go somewhere together.
Has there ever been a more foolproof method for getting hitched?
Positive Elements
The setup for Baggage Claim is a little outlandish, but the movie's heart is in the right place. It's all about love, marriage and some essential ingredients for both.
Mr. Wright—that is, Mr. William Wright—actually lives right next door to Mo. The two of them have been friends since they were kids, and William proposed to Mo way back then with a ring from a Cracker Jack box. They've largely avoided romantic entanglements since, but it's clear that they still care deeply for each other: When Mo needs rescuing, she calls William, who always seems able to set aside everything to help her out. And when Mo tells William about her 30-day, 30,000-mile quest to find a husband, he tells her, gently, that perhaps she's going about her search in exactly the wrong way. He reminds Mo that his own parents were married for 40 years, in love with each other from the time they met to the day his father died. That doesn't mean they didn't have struggles along the way: They did. But they always found a way to work through them.
"The magic isn't in getting married," he tells Mo. "It's in staying married."
Mo ignores William at first. But even so, it's clear she's not looking to marry just anyone: If she feels used or disrespected, the guy's gone. She wants a beau, not a boor. And she says, "I don't want a man with wandering eyes."
Toward the end of her search, Mo re-meets a mogul named Quinton who invites her on a year-long trip around the world. He doesn't want to get married—been there, done that—but he's willing to shower her with fun and passion and scads of expensive gifts if she's willing to come along for the ride. After some thought, she refuses the offer. This immature fantasy feels like settling to her. So she tells Quinton she feels she's better than that—that marriage is more important than globetrotting "fun," and that that she doesn't want to settle (as silly as she thinks it sounds).
"As silly as it sounds," Quinton tells her, "I don't think you should."
[
Spoiler Warning
] When Mo announces to everyone, including her mother, that she's finally OK with staying single as long as it takes—a personal breakthrough—her mother, Catherine, tells her she's proud of her. "That woman," she says, "is the woman I raised you to be." It seems that the only reason Catherine gave Mo such a hard time about marriage was that she didn't want her to go through five husbands like she did. She wanted Mo to find true love, as Catherine did with her first husband. "Your father was my first and only true love," she confesses. "And I loved him until the day he died."
Spiritual Content
We learn that Catherine's weddings all took place in the same church.
Sexual Content
Mo is not without standards. But that doesn't mean she, or anyone else in this movie, waits for marriage to have sex.
When we first meet Mo she's with a jetsetter named Graham, who invites her to his home city for Thanksgiving. The two kiss and caress on Graham's yacht, and we see them in their underwear as they crawl around on a bed. (Mo later learns that he's also involved with someone else—perhaps a wife, perhaps another girlfriend—who's pregnant.)
As she dates, Mo continues to kiss and snuggle, Bachelorette-style, with her would-be beaus, but seems to stop shy of anything more. When a self-centered music star invites her to join him in a hot tub, she refuses. She does, however, literally dream of playing "doctor" with William. (He presses a toy stethoscope to various parts of her clothed body, including her backside and chest.)
William, I should note, is also involved with another woman throughout most of the movie, and his girlfriend lives with him. And we later learn that said girlfriend is cheating on him, flying off with another man.
Mo's friend Gail is almost completely driven by sex. She displays quantities of her ample bosom when she thinks it'll lure a man her way. She tells sexual jokes loaded with double entendres. She makes a Freudian reference to a sexual position. She gives Mo cranberry-flavored condoms. She says that the married men she dates never wear their rings. "It's tacky," she admits.
Mo's other flight attendant friend, Sam, talks about being gay. He mentions dating occasionally, and we see him eye other men (as they eye him). At one point, Sam and Gail set up dates with the same pilot, much to their mutual horror. Mo sees one of her potential suitors kiss another man.
We see women in their undergarments, and men without their shirts.
Violent Content
A woman who suspects that her man is cheating on her begins throwing things and breaking windows.
Crude or Profane Language
Three s-words and an overhead bin full of other profanities, including "a‑‑," "b‑‑ch," "d‑‑n" and "h‑‑‑." God's name is misused about 10 times. People throw around demeaning labels like "ho" and "whore."
Drug and Alcohol Content
The plot to marry off Mo is hatched at a bar after Gail, Sam and Mo have all admittedly had too much to drink. Discouraged that the dating isn't going well, Mo gets soused on cocktails at a hotel and begins singing karaoke. In a dream, she shares more cocktails with William. Wine and champagne make appearances. Gail tells an airline passenger that she'll get him the vodka he asked for.
Other Negative Elements
I should note, for those who've not yet had the thought, that it's kinda illegal for Mo and her airline friends to pick through flight manifests and such as they hunt for Mr. Marriage Material.
A little dog named Juicy has been trained to urinate on command, a "trick" we're treated to. There's a line about not trusting "black Republicans."
Conclusion
Baggage Claim is both funnier and sweeter than I thought it would be, and it offers a salient message rarely encountered in movies like this: Staying married is worth way more celebration than getting married. This flick doesn't cop to the conceit that so many other romcoms do—that the story's over when you fall in love, or have sex for the first time, or say your "I do's" at the altar. Really, that's when the story's just beginning, we're told here.
'Course, Baggage Claim's story actually does end with love being realized with a kiss shared in an airport and a trip together to Paris sans wedding rings. Sex isn't the beautiful ending here, per se, but it's certainly not the beginning of married life either. Which makes the film sweet and tart, sentimental and tawdry, on time but with too much baggage.
Baggage Claim Movie Review