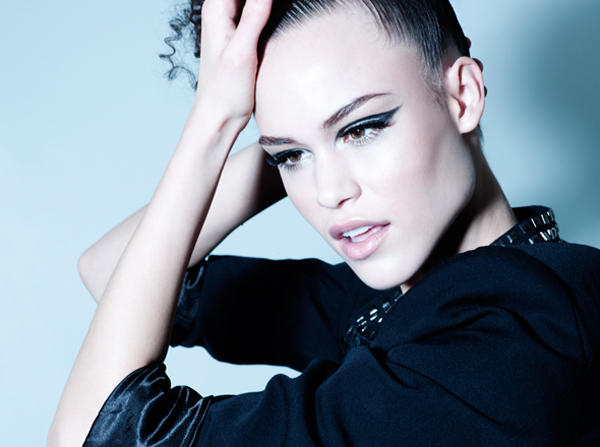 Project Runway model Kalyn Hemphill grew up singing in church but these days the successful 23-year-old can be found growing up in front of a camera.
By Lisa Costantini
To say Kalyn Hemphill is just a model is like saying chocolate is just a food. The 23-year-old is so much more than that. (And don't even get us started on how we feel about chocolate.) The winning model on season 6 of the hit reality show, Project Runway and offshoot show, Models of the Runway also lists dancer, actress and singer among her talents. Despite having so much on her plate, Graceful Chic's cover girl found time to answer a few questions for our premiere issue. Read on to hear what she is most passionate about and the three little-known facts that will surprise you.
GC: People think of models as such girly girls but you grew up in Texas and love to hike, bike and go rafting. What are your feelings on fashion?
Kalyn: Yes, I am an adventure-seeker and I love anything outdoors! I also adore fashion. I believe that the clothes you wear are an expression of yourself, and there is such creativity and freedom in that. I personally love chic clothes with an edgy twist, and I adore vintage jewelry.
GC: What would you say are your three favorite pieces in your closet this season?
Kalyn: My burgundy blazer, black cigarette pants and lace up boots.
GC: Along with fashion we see that you're also passionate about God. Is it difficult to hold tight to your religious beliefs in the world of modeling?
Kalyn: It is a daily challenge of living "in the world, but not of the world." There are so many pressures, but I have boundaries (such as no nudity, etc.), and I always have to remember that I am made in the image of Christ when people criticize or reject me. I also know that I am not in the modeling world for my glory, but for the glory of God and the furtherance of His kingdom.
GC: In addition to modeling, you also sing. When did you first start singing in church?
Kalyn: I started singing in the church choir at First United Methodist in Lake Jackson, Texas when I was young and then as I got older started singing solos. To this day, my favorite song to sing in church is "How Great Thou Art."
GC: With so many interests what would you say you're most passionate about?
Kalyn: I feel the most "at home" in this life on earth when I am performing or on a stage. It is a thrill, joy and passion that is hard to describe, except that it just feels right. I can express myself through the character I am playing or the song I am singing, and it is a true release. I love when I get to sing, act and dance all at one time and that is why musical theatre is so fun for me. But I love all aspects of the arts and entertainment world.
GC: What would you say is your favorite part about your job?
Kalyn: I love that every day is different, unpredictable, challenging and full of adventure. I can be on a modeling shoot in NYC one day and then on a soap opera audition in LA the next.
GC: Fame goes to a lot of people's heads. How do you stay grounded?
Kalyn: It is a daily surrender of my will, my pride and my ambitions and staying rooted in the Word. I am a sinner saved by grace and this life and my talents are not my own … It's about His fame.
GC: Do you have a motto you try to live by, or bible verse?
Kalyn: I love and believe Psalm 37:4 "Delight yourself in the Lord and He will give you the desires of your heart."
GC: What would you say to someone who wanted to follow in your footsteps?
Kalyn: Don't settle for "Plan B." Boldly follow the dreams God has placed in your heart and never compromise your beliefs for fame, money or others' approval.
-Know that this industry requires extremely hard work, years of persistence and a lot of rejection, but it is worth it!
-Listen carefully for God's guiding voice and seek wise counsel in decisions.
GC: You've said before that you love challenges. What are some challenges you've had to overcome in your life?
Kalyn: I think one of the biggest challenges I have faced in my life is growing up with two brothers on the autism spectrum. Our family life was not always easy, but I love my brothers dearly and God has taught my family countless things through our situation about love, patience and compassion for those who might be a little different from us. I have learned that some of the greatest blessings and lessons God can teach us come from hardship and even pain.
GC: We know you support a lot of different charities; do you get the opportunity to work with them very much? If so, how?
Kalyn: Yes! Two organizations that have played a huge role in my life are Models for Christ (MFC) and Red Eye Inc. Models for Christ meets weekly for Bible study, prayer and fellowship, and I got involved at 18 when I moved to NYC. MFC is an incredible support system of professionals in the fashion industry seeking to honor God while navigating through the challenges of the modeling world. We do several outreach projects in order to reach the people in the fashion industry who so desperately need to hear about the hope found in Jesus. Red Eye Inc. focuses on community, creativity, and serving humanity with young adults in Los Angeles and New York. It is a place where artists, musicians, actors, etc. can foster authentic relationships while also using their platforms to serve others. I also volunteer with Charity: Water and The Austism Society of America.
GC: Viewers feel like they got to know you on season 6 of Models on the Runway, but what are three things we don't know about you?
Kalyn: 1) I don't have a TV! If there is a show I want to watch I sometimes download it on Hulu, but for the most part if I have a free evening I go see a live band, go to the beach or spend time with friends.
2) I am a coffee addict! I have cut down from a pot a day, but I still need 3 or 4 cups to get me going in the morning. (Not good—I know!)
3) I am really clumsy. I'm always tripping on things, spilling and stubbing my toe. Haha, not sure how I make a living being a model and a dancer!
*Seeing that you just celebrated your 23rd birthday, where do you see yourself at age 30?
I'm excited to see where God takes me! I hope to have a successful career and hopefully will be performing on Broadway or in TV/Film. I also hope to marry the man of my dreams and be happy and healthy.
For more information on Kalyn, check out her website at www.kalynhemphill.com, and follow her on Twitter @KalynHemphill.